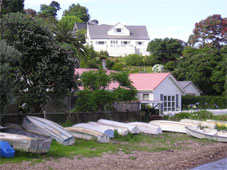 History
Matauwhi has been spelled many ways: Mataui, Matahui, Mata Hui, Matawhi, Matawai. The present spelling means skin of the 'uwhi' (a sweet potato) and is pronounced ma-ta-oo-fee. The Maori chief, Pomare, had his pa (fortified village) on the headland to the east of Matauwhi, above Pomare Bay.
Anglican missionary Thomas Kendall conducted the first NZ Christian wedding in Matauwhi Bay. Later, after Captain Hobson negotiated the Treaty of Waitangi in 1840, there was a hotel in the Bay and the Russell Boating Club was originally a boat-building business and later a fish factory.
Lemon Tree Track climbs the promontory above the centre of the Bay past Arcadia Lodge and named for a large lemon tree in its garden. Arcadia was built around 1900 by the Rev Boler, Anglican pastor to Russell. Floors, structural posts and beams are of local heart kauri and many of the components were salvaged from shipwreck and demolition timbers (totara, puriri and jarah). Some floor bearers were supported with whale vertebra and one recently replaced is displayed in the living room of Arcadia Lodge.
At its top Lemon Tree Track connects with the end of Brind Road. Captain Darby Brind owned the eastern end of Matauwhi Bay, where the road out of Russell climbs steeply up 'Constitution Hill'. He earned missionary disapproval by selling muskets to Maori. Then, although engaged to an Englishwoman, through his relationships with the daughters of prominent Ngapuhi chiefs Hongi Hika, Pomare and Rewa, he was blamed for the 'Girls War' which erupted on Kororareka Beach with the loss of over a thousand lives.
Heading north, Brind Road climbs further to Gould Street. Frank Gould was the schoolmaster between 1850 and 1860.