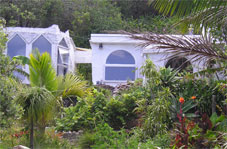 History
The Maori name for Long Beach is Oneroa: "one" (pronounced aw-knee, meaning 'sand') and "roa" (raw-ah, meaning 'long').
The first few holiday baches were built at Long Beach in the 1920s but after World War II its popularity soared.
Adobe Cottage, at the road entrance to Long Beach, was built in the 1940s by Charlotte Larkin. Aged in her sixties, she built it from bricks made with clay and sand found on site. The cottage with its unusual windows still attracts visitors today but her dream was to inspire young men returning from the war, so that they would be able to build their own homes. Russell Museum has an interesting booklet for sale, 'Puawananga' (clematis), with further information.
The big headland between the Tapeka rocks and the little bay of Waitata and Oneroa/Long Beach was named 'Temple Bar' by Russell children many years ago, although no-one remembers why. During WW2 this headland was fortified by the Navy and Army and known by its official name of 'C Section'. Few people today remember the great guns of C Section, or the powerful searchlight which was installed halfway down the cliff. The headland is a conservation reserve and remnants of the fortifications can still be found on it.
Waitata Bay, tucked between Temple Bar and Long Beach, was once owned by a family who kept donkeys so it was often called 'Donkey Bay'.